Slough Town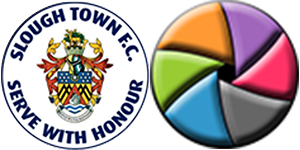 FCVideo are pleased to announce a new Football Partner, Slough Town FC.
We have been in discussions with Slough Town since March, and are proud to have been chosen to Partner the club in what we hope will be an exciting season for the club, players & supporters.
Having experienced 2 promotions last season with Farnborough & Maidenhead Utd, we hope to be able to assist the management team with full match footage, whilst also providing the fans with match highlights.
The club have some exciting plans to enhance the fans experience, bringing them closer to the club, and we are proud to be a part of that.
We will film the Rebels' home EVO-STIK League South Premier matches and selected home cup matches, making highlights and goal clips available to view.*
All Video Highlights & Goal Clips for Slough Town will be sponsored by SEGRO plc