Filming weddings is what we have been doing – but on the quiet. Our football schedule means we are committed most weekends from August to May, and one of the things we pride oursleves on is not letting anyone down. We would rather say no now, than risk having to say sorry later.
But we do Film Weddings – just mainly in the summer! So if you are looking for a May-July wedding, or even a Non-Saturday wedding, let us see how we can make your wedding memorable for years to come.
We offer tailored packages around what you want – whether it's bride & groom preparations to the leaving the reception or just the ceremony – we can create a plan & cost around you.
Typical items we can film are:
Bride and/or Groom Preperations (3 videographers required if both)
Guest Arrivals at Church/Venue
The Ceremony
Reception
Video Messages (we can include ones recorded from those who cannot attend if they can be provided to us)
Speeches
Cutting the cake & 1st Dance
Departures
Montage of the day
Bloopers – if we can get enough!
We would like to attend the wedding rehearsal to work out the best places to film from – and always good to get to know the vicar, and understand what are no-gos.
We can deliver the wedding on DVD, Blu-Ray or a personalised USB Stick – see the personalised stick and the presentation box below – and the wedding on USB as a web page to the left.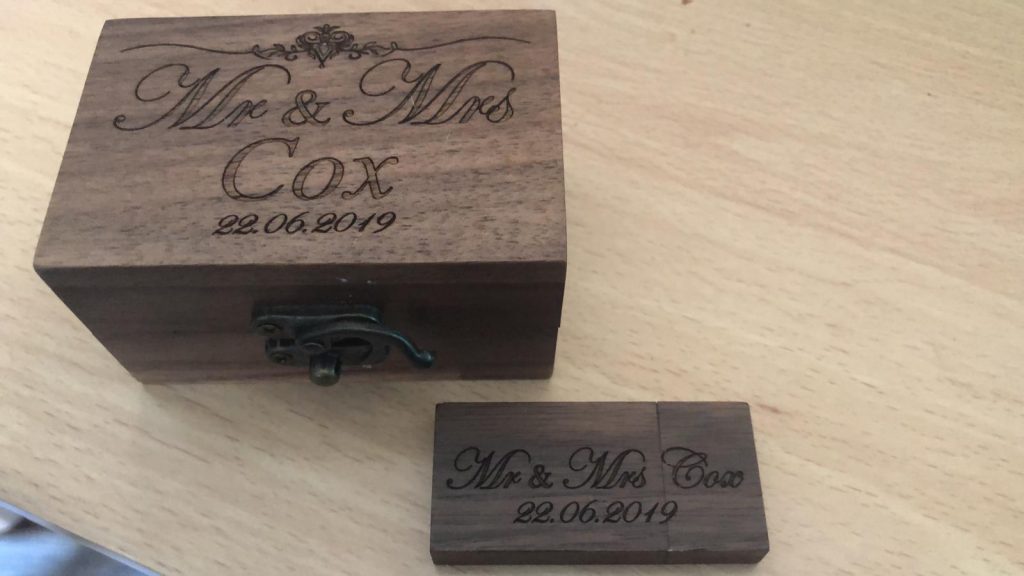 We would normally film with either 2 or 3 videographers, and use Full HD Cameras. Our aim is to blend in – that's how we get the best and most natural shots (and the odd blooper – always good for that other montage!).
We look to provide 1st versions within 2 weeks, and happy to take any feedback about bits you may want to change – after all it is YOUR WEDDING
Have a look at The main montage from a recent wedding.
Feel free to ring us (numbers on our contact page) or use the online form.